If your 'someone special' spends their time away, driving trucks, you want to be able to show them that you miss them each time they go away. You want to let them know that you think about them. And that you're a genius when it comes to getting them a gift. But, what are some of the gifts for truck drivers that can do all that?
We've brought together a list of great products. Some that will cost you a few bucks. Others will cost a whole lot more. But, as they say, you can't put a price on love.
Whether you do Christmas and birthdays with lots of little presents or one big present, you'll find something on this list that will fit.
Tire Pressure Monitoring System
A tire pressure monitoring system may seem like it isn't the most fun gift at the party, but it really is an ideal gift for a truck driver. Think about it. It can help with safety, reduce running costs, lessen overhead, and increase profit and productivity. It's so good, I also want one for my SUV!
Be aware that you may need to get the sensors fitted professionally. It all depends on the type of sensor used.
GPS
OK, the invention of the smartphone had an impact on sales of standalone GPS systems. However, not everyone likes a smartphone mapping or routing solution. Plus, it kills the battery and it's a small screen. A proper GPS system has none of those drawbacks and will always work when you need it.
A mobile system can be swapped from vehicle to vehicle. It typically has a louder speaker. Some offer Bluetooth calling and many include free updates.
Electric Blanket
People have been using electric blankets in their homes for decades, why not transfer their super warming abilities to a vehicle? Low power consumption means they can be a big help, and at this time of the year, keeping warm is essential.
Power Inverter
In years gone by, we plugged one or two small devices into our vehicle's electrical system. As a result, evening entertainment on the roadside consisted of a deck of cards and a Thermos. Today, however, we view our vehicle as a third living space. As such, we have hundreds of gadgets we want to plug in like tablets, phones, portable food appliances, etc. Why should we not be comfortable on the road?
Some of these devices can't run on vehicle battery power, so a power inverter is a much-needed accessory.
Dash Cam Recorder
Dash cams are super popular right now. Not only has there been an increase in viewers for ridiculous near misses and the like, but they're a great security and safety aid for anyone spending time on the road. It will give you the peace of mind against fraudulent insurance claims, scam crashes, or speeding. Every vehicle on the road should have one as standard.
Bluetooth Headset
Bluetooth connectivity is available through a number of devices now. Even a car stereo can give you the ability for hands-free calling. That's great if you're driving the one vehicle 24/7. However, if you're swapping between a few different vehicles, then a bluetooth headset is a great stocking filler.
Portable Refrigerator
When winter time rolls around the need for a portable refrigerator isn't quite so high. But, drivers that spend their lifetime on the road need it.
Thinking longer-term, it only takes a couple of months from here before the temperatures start climbing again. Get ahead of the curve and get a fridge now!
Seat Cushion
They say that with age, comes wisdom.
Wisdom tells me that as I get older, the longer I spend sitting, particularly in a truck, the harder my body finds it, especially in certain areas.
A quality seat cushion can make all the difference between being able to sit down in comfort, or needing a physician.
XM Radio
With over 175 channels, XM radio is a satellite radio service that offers commercial-free music and broadcasting around the clock 24/7. It has every conceivable genre you can imagine.
If you're spending long hours in the driving seat and want the 'radio show' experience without poor quality reception and commercials, this is the way forward.
Slow Cooker
After a long day trawling through the countryside, is there a better way to finish off the night with a traditional home-cooked meal? Surely not.
A slow cooker may not be the traditional home meal, but it's the next best thing to it while you're on the road. It can be simmering away all day without the need for any intervention from a human hand, making it the perfect accompaniment for a truck driver.
Truck Mattress
When you're on an overnighter you want to be comfortable, and many of the mattresses that come as standard are pretty average. Invest in a quality truck mattress and you'll always be bright and breezy the morning after, whatever you did the night before.
Cup Holder
Not quite so necessary in today's vehicles. Even sub-compacts have cup holders, but what about the times when you want to stretch out in the back? Or see what life is like in the middle seat? A portable cup holder is a great addition to the drivers 'tool kit' that they can take anywhere with any vehicle.
Shower Caddy
A shower caddy isn't going to change the world, but it makes life just that little bit easier and better. it's got everything you need, all contained in a dampproof caddy, and an essential part of being a truck driver away from home.
You really don't need to be struggling to carry all your bathroom essentials when you need a shower. And if you're feeling fancy, get a monogrammed one!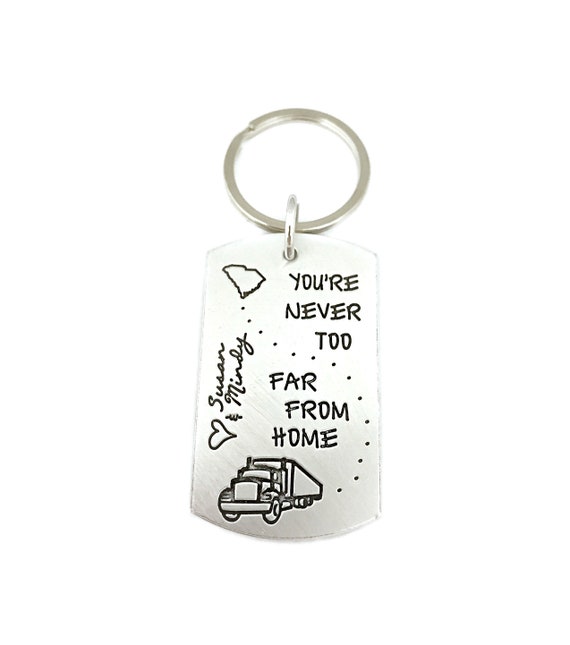 Key Chain
Speaking of showers and carrying stuff, investing in a decent key chain is a great way to keep hold of your keys when you're not sat at the wheel of your truck.
Available in many different types, from retractable to springy, you'll never lose your keys again.
First Aid Kit
This should be part of every road user's trunk gear. But, unless an arm is hanging off, a truck driver isn't going to want to make a detour to the nearest ER. So, a comprehensive first aid kit is the perfect gift to keep the wheels rolling.