​Steering wheel covers make a great addition to your vehicle. They offer protection for your hands and the car, as well as allow you to personalize the look of your interior. If you are thinking about purchasing a new steering wheel cover, there are a few considerations to make to ensure that you get the best cover for you and your car. Below is a buying guide for purchasing the right cover for you, and a list of a few of the best steering wheel covers on the market for 2018.
​Best ​Steering Wheel Covers Reviews 2019
​1. SEG Direct Microfiber Leather Auto Car Steering Wheel Cover
​This universal steering wheel cover is designed to be flexible enough to fit any make and model whose steering wheel ranges from 14.5 to 15 inches in diameter. It is made from a smooth microfiber leather, which is produced sustainably and with consideration for the environment. The airy material gives this cover a heat resistant quality, while being slip free, skid free, and easy to hold.
​This is a cover that will make your steering wheel warmer in the winter. The soft microfiber leather material also protects your steering wheel from the heat as well as the sun. This is a steering wheel cover that is soft to the touch and comes in a variety of color schemes. Colors will likely mesh well with your current interior giving you a classic and together interior look.
​One of the benefits to this particular cover is that it is easy to install, and you will not need any extra tools or special skills. The thicker your steering wheel is, the more snuggly this cover will fit. A thicker steering wheel may also make it slightly more difficult to install. These covers are also easy to clean and simple to maintain.
​2. Vitodeco Odorless Luxury Genuine Leather Steering Wheel Cover
​The Vitodeco Genuine Leather Steering Wheel Cover solves one problem off the bat, the annoying fake leather and rubber smells from low quality materials. Being formed from one single piece of 100% genuine leather means no toxic chemicals or poor smells. They are engraved with a decorative "Dragon Scale" pattern which adds a simple and sporty decorative touch.
​Premium leather also offers an added level of protection against wear and tear, as well as provides you with sustained protection for years to come. It is likely that this steering wheel cover will last you a long time. Due to the fact it is made from real premium leather, you will want to take care of it with proper cleaning and conditioning when needed. This will help protect it from the sun, while it protects your steering wheel.
​Both the leather material and the decorative scales give this steering wheel cover some extra grip. Regardless if you need one for your work truck, your personal daily driver, or your sports car, this is a versatile cover that will serve many purposes. Pick between a small, medium, or large in order to get the right fit. Steering wheels over 14.75-inches may have a more difficult installation process, but it can be done.
​3. Valleycomfy Steering Wheel Covers Universal
​This sporty and mildly textured steering wheel cover comes in black with a variety of stitching colors to customize your look and match your interior. Made from a thick leather, this is the ideal cover for those who have a heavier work load. The Valleycomfy cover is designed to fit 14.5 to 15.5-inch steering wheels. The quality leather and rubber that has been incorporated into the cover are eco-friendly and made responsibly sourced materials.
​The Valleycomfy steering wheel cover not only provides an updated look, but it also provides a better grip than stock steering wheels. The high-quality materials will help to keep your hands cooler in the summertime and warmer in the winter. Stronger and thicker leather make this cover well worth the investment, as it will be wear-resistant in itself and protect your car's original steering wheel. Installation is quick and easy, making this an awesome option for any car, truck, or SUV.
​4. FH Group FH2001​ Steering Wheel Cover
​The FH Group has designed a steering wheel cover designed to give you the best protection against extreme temperatures, while giving you a better grip year-round. The machine-punched perforation provides extra airflow to help regulate steering wheel temperatures.
​These genuine leather covers are strong and durable. They will quickly and easily cover a dirty or aging steering wheel, protect and preserve your current steering wheel, and will add a new look to your interior. If you live in cold areas, the added grip comes in handy when wearing gloves. When you face high temperatures in the summer, the breathable leather keeps the wheel cooler to the touch and makes it easy to grip with wet palms.
​You can purchase the FH Group Perforated Genuine Leather steering wheel cover for your car if your steering wheel measures between 14.5 and 15.5 inches. Installation is quick and easy. This steering wheel cover is designed to fit snugly, so that you are ensured maximum grip and a sleek look.
​5. Plasticolor 006736R01 Star Wars Steering Wheel Cover
​Plasticolor took a classic Star Wars villain and hid his silhouette on this soft plastic car steering wheel cover. This cover is perfect for any fan who wants an instant upgrade while paying a subtle tribute to their favorite foe. The flat black plastic cover has a matte black cutout of Darth Vader on the side, and it offers a classy upgrade that is compatible with most interiors color schemes.
​The soft black plastic is easy on the hands, smooth, and has a good grip. Inside the cover is an insulated foam that allows the cover to stay stationary on the steering wheel. The plastic may be harder to stretch, so make sure to follow the instructions for a quick and simple installation.
​The durable and quality materials used to make the Plasticolor Darth Vader steering wheel cover will be long lasting so you can enjoy your investment for years to come. Darth Vader himself is printed with quality ink, so his image will be scratch and moisture resistant. This is one of the most entertaining options on our top 8 best steering wheel covers list, and it allows even the most serious drivers have a little fun with their interior.
​6. Mayco Bell Car Steering Wheel Cover
​Mayco Bell offers a line of steering wheel covers that are simple, appealing, and functional. When you want to add a modest and classy touch to your vehicle, this is the way to do it. A great design is met with even better color options without being too busy or distracting from the rest of the interior. Mayco Bell steering wheel covers are offered in colors you may not find else where like white, blue, and beige. Color matching stitching is the only embellishment, which is often preferable when you are going for a classy look.
​The Mayco Bell covers are made from microfiber leather and are designed to meet top quality standards in both materials and craftsmanship. They will keep your hands warmer in the winter months and cooler in the summer months. The premium leather is not only durable but is easy to clean. It will protect your current steering wheel, your hands, and the environment.
​This particular car steering wheel cover may not be suitable for all makes and models. It is a very particular design that is mean to fit one size of steering wheel well. You will want to verify your make and model has a compatible steering wheel. If you like the look and sound of this steering wheel cover by Mayco Bell, we can promise you it is worth the investment.
​7. Rueesh Microfiber Leather Car Steering Wheel Cover
​The Rueesh Microfiber Leather Car steering wheel cover comes in three different patterns and styles. All options are flat black in color, with either a red or black edging. You can also choose from two different patterns of tooling that add extra flare and chic. This is a heavier steering wheel cover that is designed for optimal grip and performance.
​Better grip means more safety. This is one steering wheel cover that makes you feel like you are in control. The snug fit is more versatile than it may seem, and this cover is designed to fit 90% of steering wheels that have an outside diameter of 14.5 to 15-inches. Customer support at Rueesh is great and will answer any questions you have about this cover fitting your make and model, typically within 24 hours.
​The massaging, decorative, and unique design of the Rueesh Microfiber Leather car steering wheel cover is an all-inclusive and overall top choice for anyone looking for a black or black and red option. It is made from eco-friendly materials that are sourced responsibly. Rueesh is so proud of their products, they offer a money-back guarantee.
​8. BDK Genuine Leather Car Steering Wheel Cover
​Different than all of the other options on our list, the BDK Genuine Leather steering wheel cover is ribbed to accommodate the natural spacing between your fingers. This part of the design makes it look, feel, and perform unlike any other types of car steering wheel cover on the market. True 100% leather is double stitched to an eco-friendly liner that fits snug around steering wheels that measure 14.5 to 15.5 inches in diameter.
​The high-quality leather is resistant to heat, cold, mold, wear, grime, and scratching. The double-stitched leather holds up against daily driving and heavy usage. It is offered in 3 accommodating colors, grey, black, and tan. The cover itself it totally odorless and doesn't give off the toxic fumes that cheap car steering wheel covers tend to.
​The design of the BDK Leather steering wheel cover is slip resistant due to materials it is made from, as well as slip resistant for your hands. The ridged designed to fit between your fingers allow you to hold onto your steering wheel more securely than ever before. You will experience driving in a whole new comfortable way thanks to this simple and easy upgrade.
​Best Steering Wheel Covers – Buyer's Guide
​With such a wide range of steering wheel cover options available, ​you will want to know the diameter of your steering wheel, and you will want to have an idea of the material and color scheme that you may be interested in. The latter is less important, as you may be inspired once you start shopping. Review the considerations below, then take a look at the top steering wheel cover choices we have picked out for you based on​ product reputation, quality standards, ​etc. You can choose which one fulfills your wants and needs best.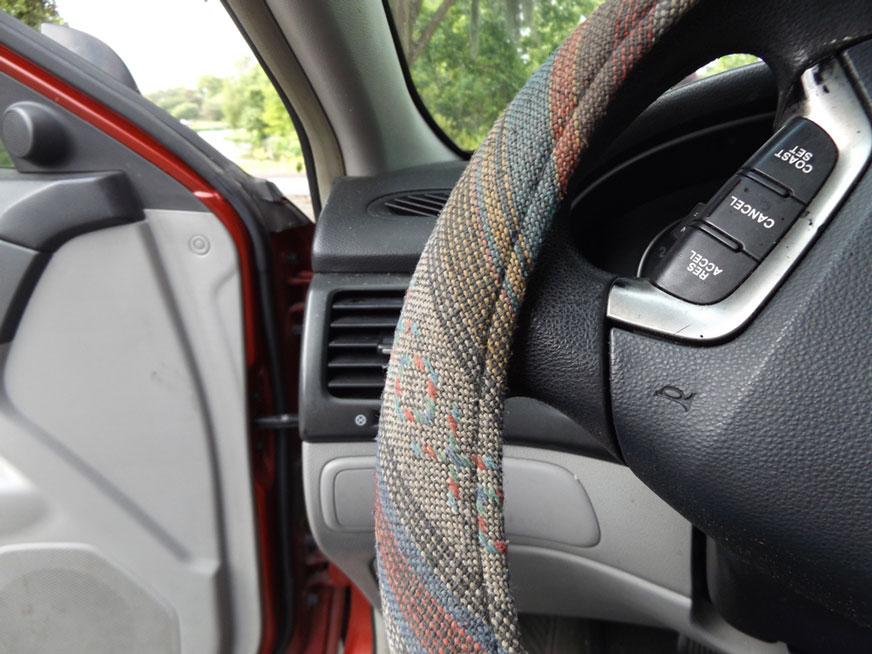 ​Size
​It is important to know the size of your steering wheel before you start shopping. The "size" of your steering wheel is the outside diameter measured from one outside edge of the steering wheel to the opposite outside edge. Some steering wheel covers may also want to know the circumference of the steering wheel if they are designed to fit tight.
​Material
​The material that your new steering wheel cover is made from will determine everything from how it is installed, to how it cared for and cleaned, to how the grip will feel on your hands while you drive. You can find steering wheel covers made from leather, cloth, vinyl, rubber, and much more. It is likely that you will favor one material over the others due to the different textures and how they perform in your climate. Think about what materials you may be familiar with and may be interested in.
​Style
​Most automotive steering wheel covers are designed to match the most common interior colors across all makes and models so that the cover blends well with your vehicle's current look. No matter what kind of cover you end up purchasing, you will want to consider how it will look with the rest of the interior. You can upgrade the look of your car with a new cover, add a sporty or classy look, or add a touch of color and personal touch. Try to visualize the look you want to achieve.
​Conclusion
​Steering wheel covers are available in all different styles, textures, colors, and materials. Which steering wheel cover is best for you depends on what you are looking for and how much you are wanting to spend. Quality steering wheels are not terribly expensive. Upgrading your steering wheel is a simple and easy process that can protect and preserve your current steering wheel or help revitalize the look and feel of an old one.
​By combining a good quality ​sunshade, you can expect to have your ​steering wheel ​keep cool near perfectly on ​these hot summer days.