​I know how it is … you're looking for some equipment for the workshop, but you don't want to spend a ridiculous amount of money, especially if the equipment isn't going to work for you. Right? That's why I started reviewing this sort of stuff – to give you an unbiased & honest opinion. ​Today, I'm looking at what makes for the best floor jack.
​To a degree, your choice of floor jack may be dictated by your car. Sure, you could go and spend $1,000 on buying one from a well-known retailer like Snap-On, but do you need a thousand dollar floor jack? Doubtful.
​For me, I know that I'll be using it on a smooth, hard floor surface, so size of the wheels isn't important to me, but if the floor isn't smooth, you'll need something with slightly larger wheels. Same for weight – swinging a heavy-weight floor jack around a smooth floor isn't problematic, but doing the same in your yard or driveway … it's something to consider.
​Of course, there's the obvious factor also – what weight can it lift? A lightweight racing jack will bust its seals just looking at something like a Caddy Escalade, and even using some decent jack stands, your safety has to come first.
​The Best Floor Jack
​Arcan XL2T Black Low Profile Steel Service Jack​
​This is perhaps my favorite choice in the list, for good reason – it has the lowest entry point at just 2.75", and it's long reach which helps to give it the 24" height – taller than anything else here. The chassis is 32" long, and it's flat for a good part of that – many of the competing jacks have a low entry point but then rise sharply halfway along, which doesn't really help anything.
​Dual piston, also known as dual pump, it's quick to operate – reaching full height in around 7 full pumps, and the release mechanism is slow and controllable – this should help to avoid your car just 'dropping' when the jack is released.
​The Arcan XL2T also has a relief valve for overload protection, and the chassis is all steel which is both good and bad – it's strong, but it's heavy – around 90 lbs in total, so swinging it around underneath a vehicle will need some strength.
​Torin Big Red Hydraulic Trolley Floor Jack
​The Big Red seems to be a great service jack, fairly basic. It does come with an added feature that none of the other jacks do … a removable extension to sit on the saddle, with the extension fitted, the minimum height is 9" – a really quick and simple way to switch between a standard entry height, or something for a taller vehicle.
​Without the extension, the range goes from just under 6" through to 17.25". It has the usual safety features, including over load and over pump, but where the Big Red scores well is the controllability when releasing it – nice and smooth.
​A 3 ton capacity is enough for most jobs, and the red powder coating seems pretty hard wearing and durable. A great workaday jack.
​Pro-Lift F-767 Grey Low Profile Floor Jack​
​This is an every day worker with no special features, but as the saying goes … it does exactly what it says on the tin, for the occasional oil change, tire rotations, for example, or changing ​a winter snow tires.
​An entry height of 3.5", rising up to just 14" thanks to its short reach, and it will hold 2 tons. Pro-Lift say that it has a patented bypass device which prevents over pumping, and like all the others here, it also has a safety valve built-in. ​With a heavy duty steel construction, ​this tool will cope with some daily abuse, despite being the cheapest car jack here.
​Powerbuilt 620422E Heavy Duty Triple Lift Jack
​​The Powerbuilt 620422E is a bit of an oddity in style, almost a cross between a moto-x stand and a jack, but it's this patented design that allows it to work with most of your everyday vehicles – car, SUV, motorbike, ATVs … anything within the weight limit. The saddle is removable, which then gives an almost square frame to lift against​.
​Another neat touch is that it can be locked in place once raised, with the use of a steel bar (supplied) that slots through some holes in the chassis, making it completely secure, without fail. ​This jack also has built-in tie down loops attached to the rear of the jack, so when you're lifting a bike you can securely strap it down so it doesn't move – a very minor detail, but well thought out.
​Minimum height isn't that minimum – very nearly 6", and it will raise to just over 17". If you're looking for something that will work with a variety of vehicles, this is the one.
​Arcan ALJ3T Aluminum Floor Jack
​Another great product from Arcan, only this time, it's all aluminum (the chassis) and weighs around 56 lbs – pretty lightweight compared to some of the others here. Being honest, it's similar to my everyday jack in my workshop, aside from the fact that mine came from Snap-On and cost about three times as much.
​The Arcan ALJ3T has a reinforced lift arm for added strength and chassis rigidity, and it's another double-pumper – with a dual piston for fast lifting. Range goes from 3.6" thru to 19.4", and the same as the low profile version listed earlier, it has all the built-in safety that you'd want or need. The 3 ton lift capacity is more than enough for your every day job.
​Blackhawk B6350 Black/Red Fast Lift Service Jack
​Another heavy duty jack, which weighs in at a hefty 85 lb in weight – ideal for the heavier jobs and commercial use, with an excellent range of 5.5" minimum height up to 22" maximum working height.
​A 3.5 ton capacity should be enough for all but the biggest of vehicles, but if you're looking to use this commercially, you're probably looking at one either side of the vehicle, giving you a capacity of 7 tons – you won't need more than that!
​The usual safety measures are built-in – a bypass device and safety valve, so you can't over-work it in any way. Comes with a 1 year warranty. Similar to the XL2T, due to its weight, I wouldn't recommend this for the driveway – trying to swing it around underneath a vehicle on anything less than smooth is going to be awkward.
​Pittsburgh Automotive ​Heavy Duty ​Low Profile Steel Floor Jack
​Labeled as an 'ultra' low profile jack, although in all honesty, I don't think it's any lower than the Arcan version, but it does have an extra 1 ton capacity (max. 3 ton) over the XL2T, the cost of that is a shorter chassis so it won't reach as far.
​It has a rapid pump facility, which is just another way of saying dual piston – lifting all the way to its top height of 19.75" in around 6 full pumps of the handle. Made from steel, and heavy duty – 74 lb in weight in total.
​It also has excellent control through the release mechanism – nice and gradual without any sudden drops, and of course the safety features that are fitted to most floor jacks – this is what you need from a professional floor jack.
​Performance Tool W1627 Low Profile Service Jack
​The low profile jack from Performance Tool has a flanged steel frame, which ​should ​bring it an extra bit of rigidity, ​along with ​capable of lifting vehicles 7,000 lbs. A useful range of 4" right through to 20.5" should allow it to work with pretty much anything apart from the lowest of low riders.
​I like the fact that the frame is longer than standard, but the sharp incline about 2/3 of the way up the body may not mean that the low profile is as low as you think – it's fine for lifting when the jacking point is close to the edge of the vehicle, but you may not be able to slide it right underneath the car.
​Another dual piston / quick action jack, it's built tough and would look great in any workshop, professional or home-mechanic.
​Safety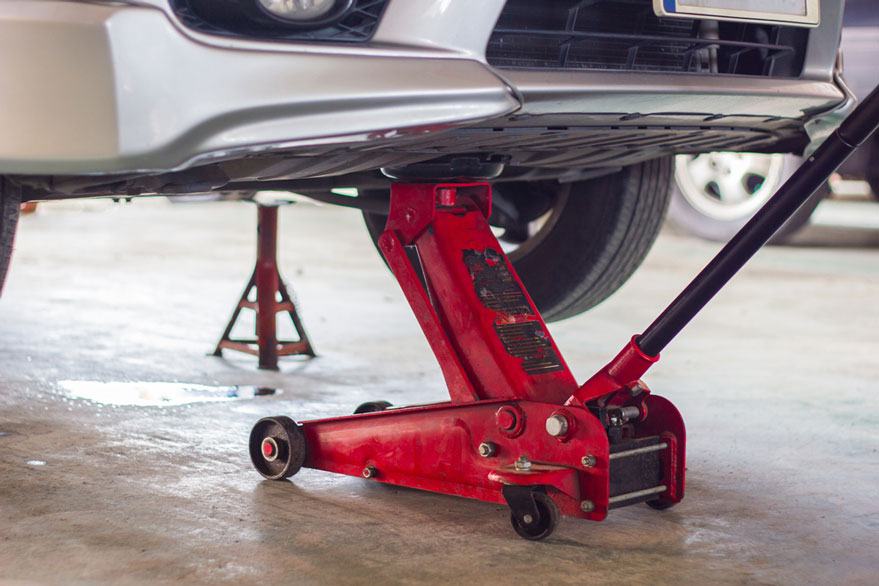 ​I'm sure that everyone knows the pitfalls and safety arrangements of using a floor jack safely, ​and it would be remiss not to run through the basics …
​A floor jack is intended to be used as a device to lift a vehicle ready for jack stands – not to support the vehicle for sustained periods (although the Powerbuilt does have that facility – it can be locked in place). Once you've lifted the vehicle to the required height, you should use jack stands to support it.
​Adding a little extra height to the jack is possible with the use of wood or specialist lifting blocks. You should never use things like building bricks as these have a tendency to crack or crumble – and that could risk your life.
​Always use the floor jack on a level surface, and where possible, try and get the car as level as possible to avoid it trying to roll one way or another – even if it can't roll off the jack, the very sight of a car plus jack rolling around can be unnerving (at best). Remember that a car is heavy … I'm talking heavy heavy – it could potentially kill you, or crush you.