Tires are one of the most important factors as far as the driving experience is concerned. Whether the roads are wet or dry, your tires must offer great handling and durability. Let's not wait for your tires to give up. Switch to all-season tires for better tread, handling, and comfort while driving.
How do all-season tires work,  which are the best ones and why should you buy a set today? Here's a detailed guide about the best all-season tires and why you should invest in them. After all, safety comes first! As a bonus, we have also included a list of key factors you should consider while picking all-season tires.
8 Best All-Season Tires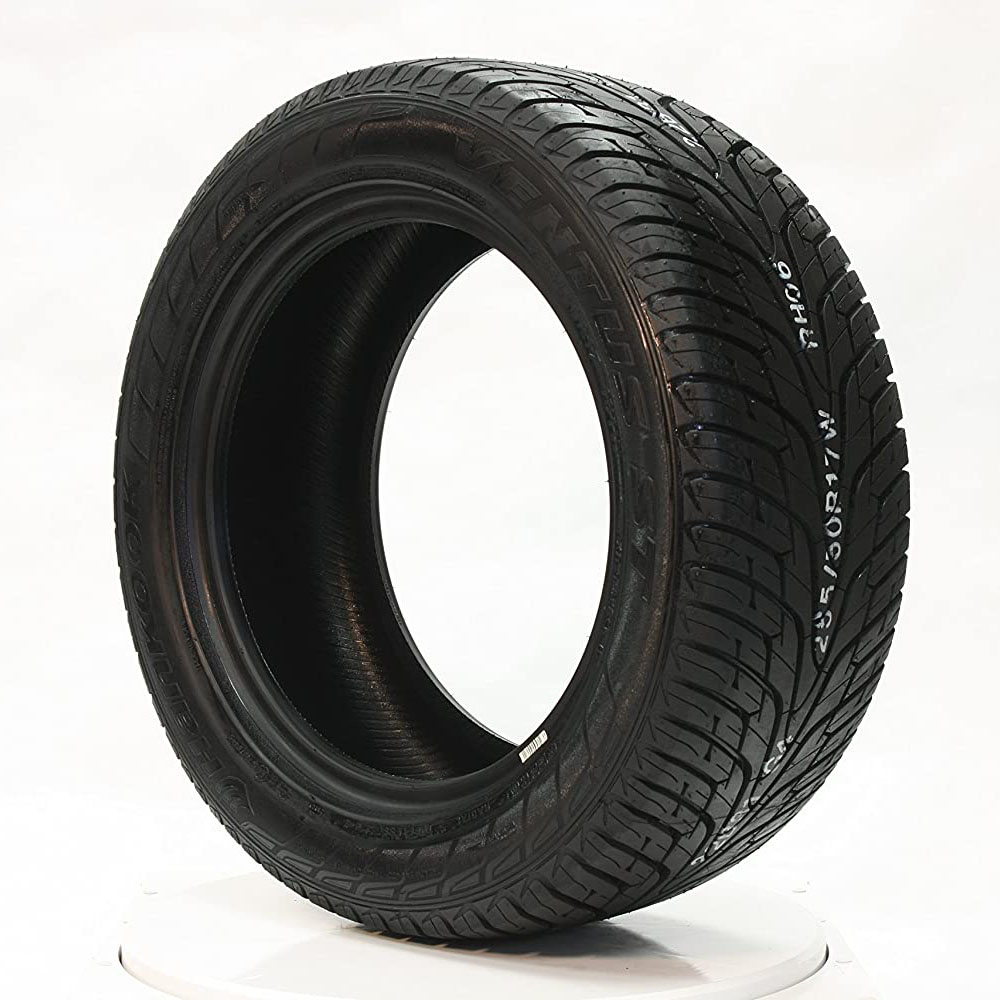 Both durability and quality are a trademark feature of Hankook. Their tires serve high-performance needs, especially for light trucks and SUVs. The tread life warranty extends for 5 years (as opposed to the most common 6 years warranty in the industry) and 50,000 miles.
Compared to most other tires, the Hankook Ventus ST RH06 is quiet. It makes your ride comfortable by minimizing pattern noise due to the utilization of dual depth pitch theory (DDPT). They have great handling on both wet and dry surfaces, essentially enhanced due to the innovative V-shaped design embedded on the out patch.
The tread-wear life of Hankook Ventus ST RH06 tires is expanded by the computerized ply line development. Other tires often lack a footprint shape optimization, which is present in these tires.
Users experience minimum wear along with excelling handling and grip in dry conditions. Speed stability improves in wet conditions due to the jointless bead wire and filler. The tires slightly lack performance in icy conditions like light snow and slush.
Key Features
Perfect for high-performance needs, especially in SUVs and light trucks
UTQG: 420 A A
Total Load Capacity: 1,829/ 2,910 lbs
Specifications
Brand: Hankook
Model: Ventus ST RH06
Weight: 32-45 lbs (Variable by tire size)
Pros
767 revs per mile
Reduced noise levels
More affordable
Cons
Low wear life reported by users
Low light and deep snow traction and worse ice traction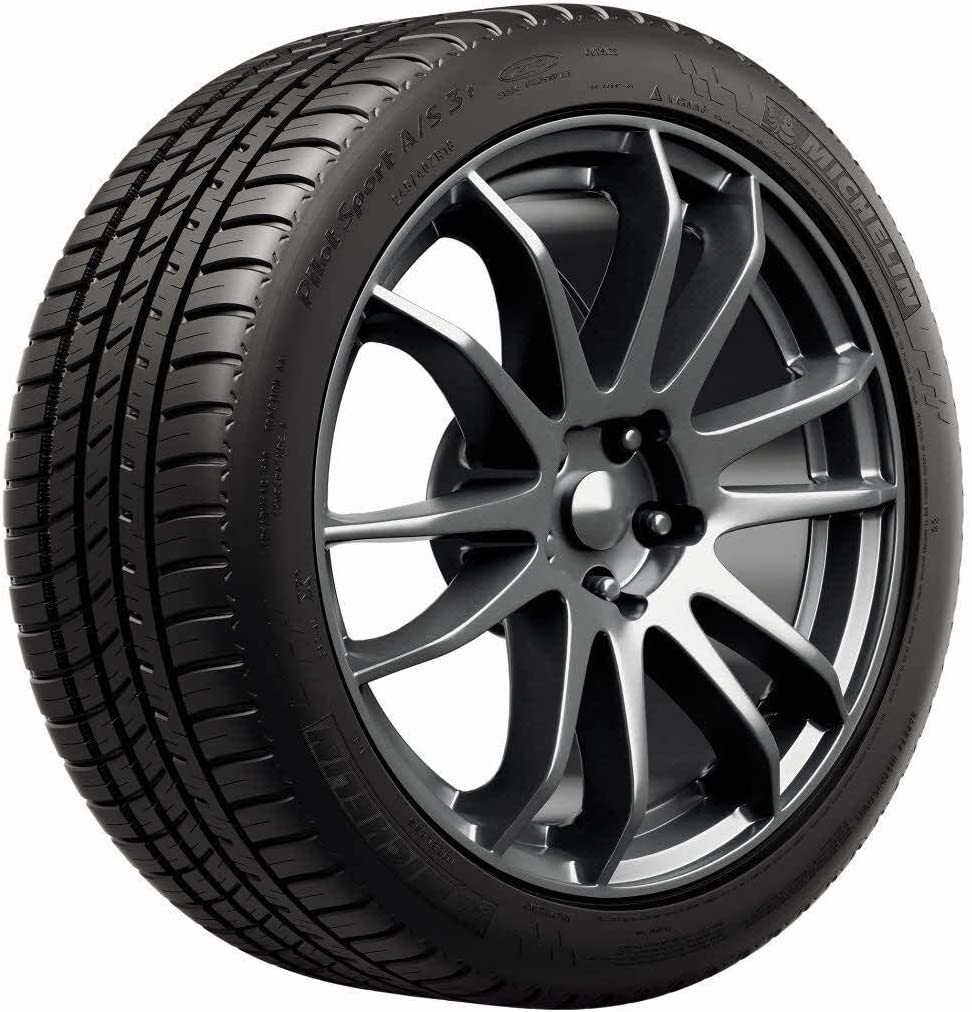 When it comes to tires, Michelin is a highly trusted and respected brand. With a low profile, the Pilot Sports A/S 3 tires are highly steering responsive. Their trademark is grip and heat-wear protection on dry roads, alongside great wet road grip. This makes them all-season, ultra-high performance tires.
The tread life warranty extends 45,000 miles in addition to a 1-year uniformity warranty. The 3-D sipes along with wide circumferential grooves help prevent hydroplaning. It features increased traction in light snow due to the Helio-plus tread compound. The tire spreads cornering pressure evenly with a variable contact patch.
Ulterior control at high speed and high levels of lateral grip is courtesy to the aggressive asymmetric tread pattern. These tires make cruising through sharp turns a satisfying experience. However, ride comfort and quality are a trade-off for the ultra-high-performance summertime handling. You may feel little pavements, potholes, and road bumps during the ride.
Key Features
Perfect for high-performance sedans and high-end sports cars
UTQG: 500 AA A
Total Load Capacity: 1,653/ 6,612 lbs
Specifications
Brand: Michelin
Model: Pilot Sports
Weight: 29 lbs
Pros
Great traction in light snow conditions
Tread life warranty is long
The variable contact patch provides good lateral cornering pressure
Low to none hydroplaning
Cons
After some use, the tires may seem to get slightly louder
For sports cars, the tires seem to be slightly soft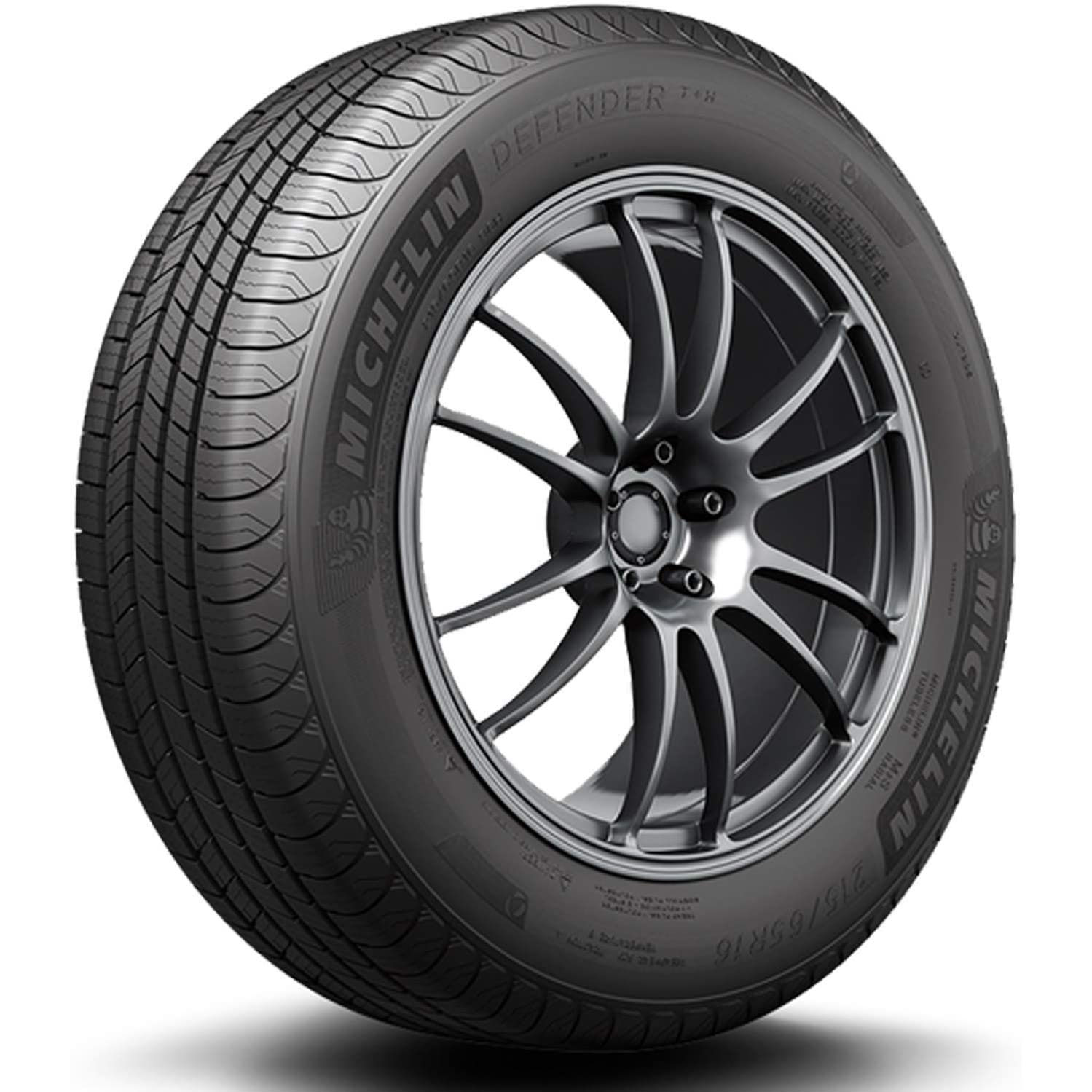 Among the most used and popular all-season tires is the Michelin Defender. The protection and safety of the passengers is a prime concern for its manufacturers. If you drive minivans or family cars and are looking for confidence and reliability in your tires, this is the perfect pick for you!
Along with a 1-year uniformity warranty, these tires come with a long 90,000 miles tread life warranty. Wear life is enhanced by the tread block rigidity. You get predictable and neat handling as the tires optimize even stress between the tire footprint and the road. The high number and planning location of sipes also optimizes the braking capabilities of the tires. The silica-based all-season mold gives it an asymmetric tread pattern.
The tires have hundreds of circumferential and lateral grooves that enhance their hydroplaning resistance. This improves the wet traction by expelling water between the surface and the tire. Minimum squealing and good cornering ability are key features of the tire. However, the tires are notorious for getting noisier after roughly 20,000 miles.
Due to the hardness of the tires, they handle sudden steering movements quite well. Yet, the tires struggle with slush and light snow and barely make it in deep snow despite being all-season. The tires are also rated green due to their improved fuel economy. They lower the rolling resistance and help save fuel. This is due to increased rigidity of the tread block as the tires consist of clever IntelliSipe technology.
Key Features
Perfect for minivans and family cars
UTQG: 820 A B
Specifications
Brand: Michelin
Model: Defender
Weight: 24.8 lbs
Pros
Experience improved fuel economy
Does not need constant rebalancing due to even wearing out
During the first few miles, they're quiet
Cons
Tires struggle in slush
A disappointing performance in snow and wet conditions
Decreased comfort due to hard rubber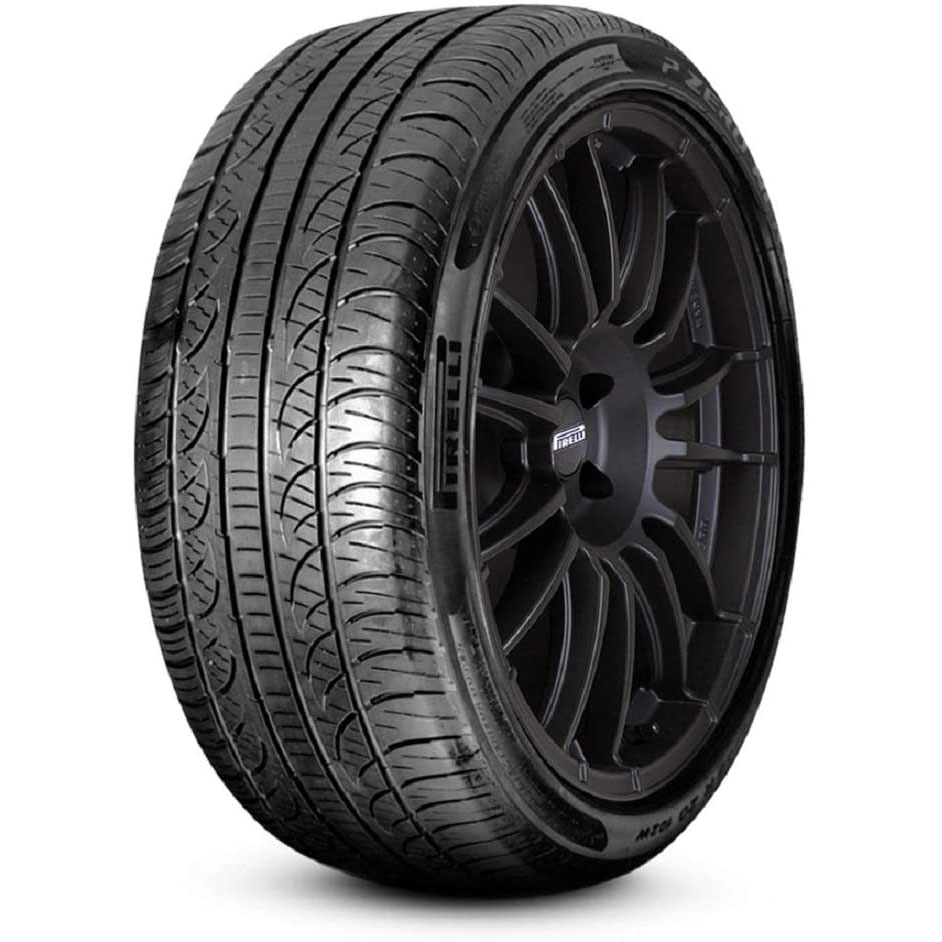 These summer tires provide maxed performance. You can enjoy the full potential of a sports car due to the tougher and harder, cutting slick edges. The tires are perfect for medium-sized sedans, speedy two-door coupes, and sports cars. Additionally, the inner liner of the tires has an adhering sound-absorbing foam layer that suppresses sound levels.
The Pirelli P Zero Nero tires are ideal for the different weather conditions offered by the American landscape. Toughness and durability are added to them by the steel twin belt. Further, a polyester cord body covers the internal structure. No special manufacturer warranty is available but the tires come with a 45,000 miles lifetime tread life warranty.
Optimized placement of sipes and shoulder blocks in a clever combination provides enhanced dry grip while applying brakes and accelerating. This is due to good footprint rigidity and is done by a silica-based synthesis for the tread. A vital role is played by the center and continuous intermediate ribs. You experience good wet traction due to the shoulder sipes along with circumferential and lateral channels, which optimize water flow.
Key Features
Perfect for medium-sized sedans, speedy two-door coupes, and sports cars
UTQG: 400 AA A
Total Load Capacity: 1,565/6,260 lbs
Specifications
Brand: Pirelli
Model: Zero Nero
Weight:29 lbs
Pros
Affordable
Decent off-road handling due to unique tread pattern
Improves fuel economy
Cons
Lacks warranty limitations
Poor performance in winters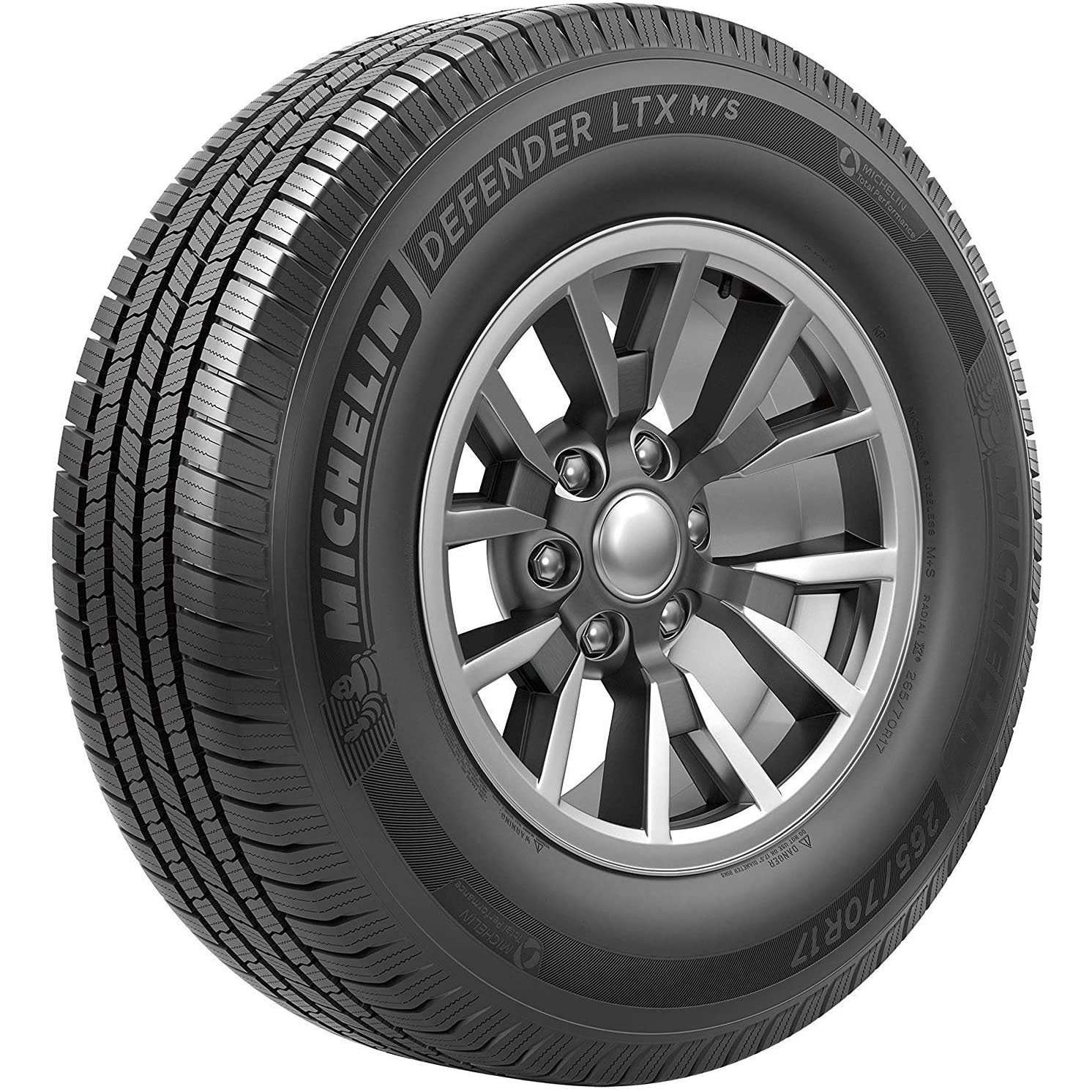 Heavy-duty vehicles extremely prefer these highway all-season tires. High load-bearing capacity is a key feature of these. Hence, they are ideal for off-road jeeps, light trucks, vans, and shuttles. Although slightly expensive, for long-range goals, these tires are unbeatable indeed.
Michelin Defender LTX M/S tires come with an all-season tread life warranty extending over 6 years for 70,000 miles. The patch comprises multiple lateral grooves and four wide circumferential channels. They have embedded Comfort Control Technology and absorb bumps pretty well. Vibration and road noise is reduced due to the tread pattern design.
The tires feature a strong resistance against wear and chipping due to the Evertread compound. It holds up against dry, tough conditions and lasts longer. The excellent wet and snow traction goes for deep snow too. Significant longevity is offered to wear life in case of load-bearing vehicles.
For off-road enthusiasts, these offer an excellent choice. The tires offer enough tread even after 71,000 miles. Fuel efficiency is offered by reducing rolling resistance due to the MaxTouch Construction.
Key Features
Perfect for road jeeps, light trucks, vans, and shuttles
UTQG: 800 A A
Total Load Capacity: 2,535/10,140 lbs
Specifications
Brand: Michelin
Model: Defender LTX
Weight: 39 lbs
Pros
Top-notch performance in wet conditions
Fuel economy is enhanced
Great warranty offer
Cons
Severely lacks off-road performance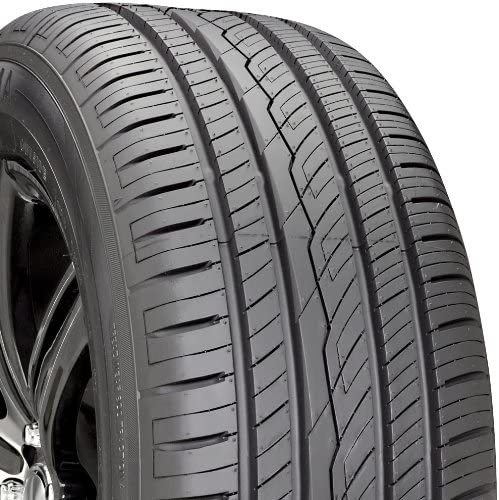 The Yokohama AVID Ascend Radial Tires are known for good traction in almost all weather conditions. AVID Ascend doesn't let us down as far as the reputation of Yokohama tires goes for improving fuel economy. You can expect an enhancement up to 2 miles per gallon when you install the tires on your coupe or sedan. Considering the 6-inch wide rim, it offers an impressive maximum load capacity of 1074 lbs.
You won't have to worry about the durability, despite the size, as the UTQG rating for models in the AVID Ascend line is 740 AA. The high quality combines with an asymmetrical tread pattern and offers maximum grip in varied weather conditions. The tires minimize noise with the help of Outside Adaptive Shoulder Blocks and their tread pitch variation. Water can also exit easily due to the varying width of notches and grooves on the inside shoulders.
In unpredictable conditions, the tires have improved adaptability. Yet, that's not all. A low-Tg polymer is used in Yokohama's TriBLEND all-season compound. Even in light slow, the tires hence, display exceptional grip. One downside they have is that you need to check the tire pressure regularly, at least once a month. 50 psi is the recommended pressure rating you must maintain.
Key Features
Perfect for sedans
UTQG: 740 A A
Total Load Capacity: 1,074/4,296 lbs
Specifications
Brand: Yokohama
Model: AVID
Weight: 19.5 lbs
Pros
Improves fuel economy by up to 2 MPG
Great warranty
Affordable set
Cons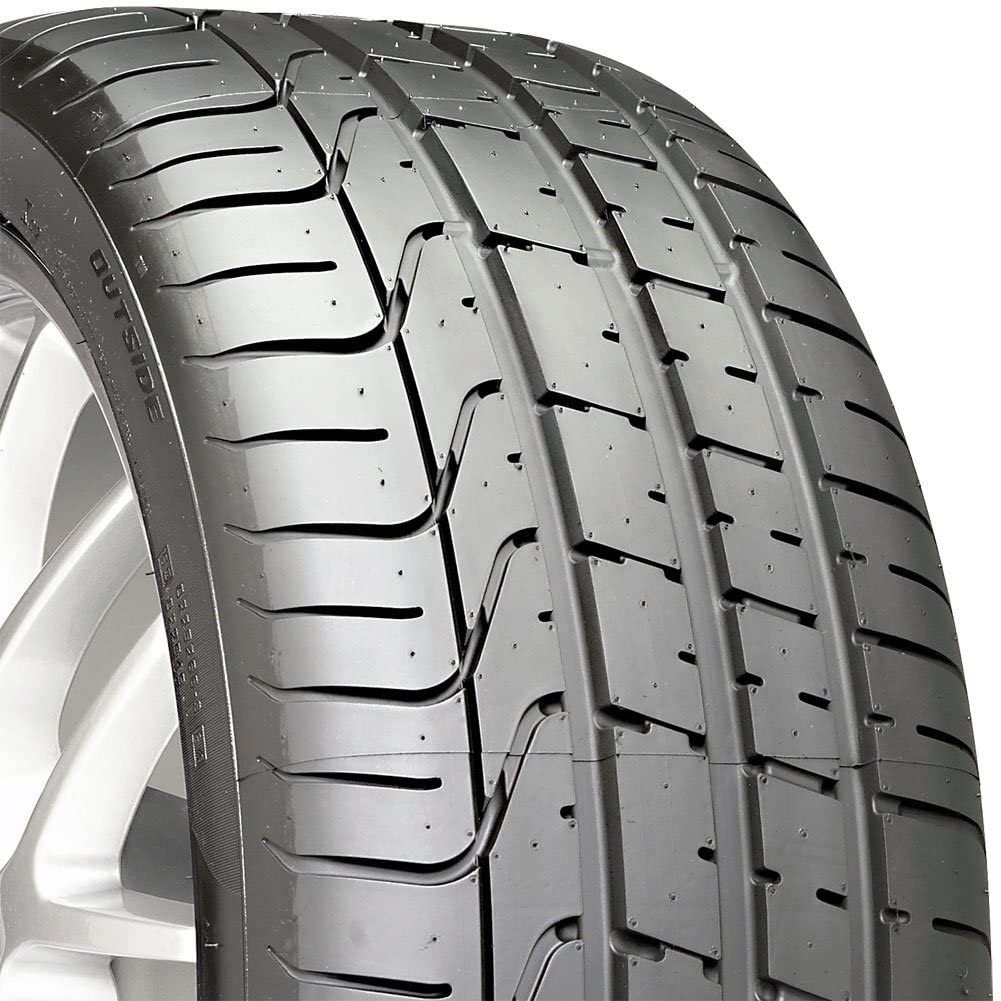 Get great years-round performance in your luxury family cars and sports cars with the P Zero high-performance tires. The tires can adapt to different weather conditions due to their design. For easier cornering, the outer shoulder blocks feature asymmetric pattern lateral springs. At the same time, you get good traction in light snow due to the 'winter springs' in the inner shoulders.
The central rib is rigid, helping in better braking and steering. Better yet, it has effective water drainage due to the Y-shaped grooves on it. Throughout the circumference of the tires, there are secondary grooves. These catch snow and drain water, improving the performance. Additionally, the tires get structural stability from the high-density nylon coiling on the twin steel belts. This ensures better weight distribution on the road as well as a more sound structure.
Maximum stability at high speeds is offered by the use of high hardness bead filler along with jointless bead wire. As of 2016, a special updated compound is used by Pirelli in the P Zero line. This compound offers better durability and traction and is a combination of polymer with silica.
Key Features
Perfect for sports cars and luxury family cars
UTQG: 220 A A
Total Load Capacity: 2,094 lbs
Specifications
Brand: Pirelli
Model: P Zero
Weight: 33.2 lbs
Pros
Can be used for heavy vehicles due to high load capacity
Stable at high speeds due to superior structure
Effective water drainage and better handling due to the unique tread pattern
Cons
On some vehicles, offers low noise control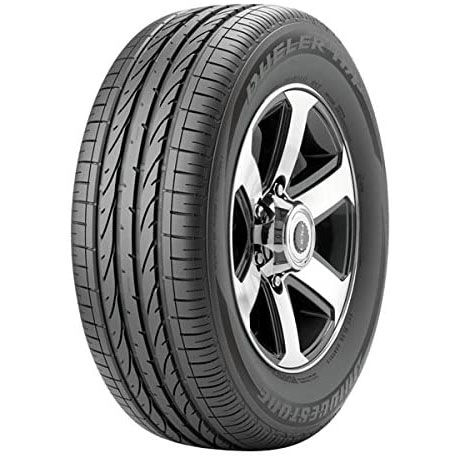 Bridgestone responded to the growing popularity of crossover SUVs light-duty trucks with the Dueler H/P Sport large-sized tires. Dueler takes performance exactly as seriously as a luxury, suggested by the 'Sport' in its name.
You get exceptional traction on wet surfaces due to the high silica content in the treads of these tires. As much water as possible exits the tires through the four circumferential grooves. Meanwhile, water is further evacuated by the high angle lateral slots.
High-stiffness closed shoulders along with symmetric tread allow the tire to provide higher resistance. This is beneficial in tight corners when the car's weight shifts to the side. Better handling is offered by the stiff shoulder. By preventing deformation, the life is prolonged due to low-link carbon used in the rubber sidewall. The same fights against tearing, chipping and cracking too.
Bridgestone also uses the Optimized Casting technique. Therefore, the tires have an optimal combination of design, pattern, tread, and casting shape. Bridgestone's Eco-Product Designation is granted to this model. Hence, they use environment-friendly materials. At the same time, these tires improve fuel economy and have low rolling resistance.
The unmatched grip is offered by the Dueler H/P Sport AS tires, especially when performing in wet conditions. Whether the roads are wet or dry, you experience the same level of steering responsiveness and handling.
Key Features
Perfect for light-duty trucks and SUVs
UTQG: 500 AA
Total Load Capacity: 1,874 lbs
Specifications
Brand: Bridgestone
Model: Dueler H/P Sport
Weight: 25.4 lbs
Pros
Reliable in all sorts of corners due to symmetric tread pattern
In rainy weather, offers exceptional grip
Steering response and handling is great
Cons
On dry pavements, it's slightly noisy
Key Factors to Consider While Buying All-Season Tires
Buying a set of new tires needs considerable thought. Apart from the budget, here are a few factors you must consider before purchasing all-season tires.
1. Size
Size is among the most important yet neglected factors when it comes to tires. A bigger problem is the fact that the majority of the users do not know the correct way of reading tires. However, the task is quite simple once you get a hang of it.
The tire's width (in mm) is mentioned in the three-digit number which immediately follows the tire's name. The two-digit aspect ratio is further separated from the width, by a slash. The tire fits on a rim and its size is given after the letter R, as a two-digit number.
Determining the optimal tire size for your car is the first step while shopping for new tires. The size rating must be closely examined as well. This ensures whether or not the tires you like will fit your vehicle.
2. Load Capacity
Load capacity is another necessary consideration. The weight of your vehicle determines the optimal load capacity you should pick. Your tires may be at risk of damage if they lack the adequate load capacity. Considering 4000 lbs as the standard weight of an empty car, an individual tire must have a load capacity of 1000 lbs or more.
The flip side of the coin is that the weight of the tire itself will increase in case of high load capacity. This will lead to an increase in the cost as well. Ultimately, you need to decide the optimal stability you need.
3. UTQG
The Uniform Tire Quality Grade, also abbreviated as UTQG is a two-letter and three-digit number grade for tires. The number represents the durability of the tire. Additionally, the letters represent how good the tires are at handling temperature and offering traction. Grades closer to AA or A are better. As per your budget, you should go for the highest UTQG available.
4. Fuel Economy
High-performing tires have recently become very popular among the manufacturers. Fuel efficiency optimization is the key feature of these tires.
According to studies and tests, these tires decrease the consumption of fuel by up to 2 MPG. While this looks like a small number, it is highly beneficial in the long term. Your vehicle's fuel economy is increased by a good set of tires.
5. Tread Pattern
The tread patterns play a crucial role in the interaction of tires with the track surface. These patterns determine how much snow the tires can catch or how effectively they can evacuate water. Under different weather conditions, these characteristics determine the tire's performance.
Each of the different tread patterns, unidirectional, asymmetrical, and symmetrical, comes with its own set of pros and cons. While the symmetrical tread patterns increase the lifespan of tires by allowing uniform tread wear, adaptability and versatility are ensured by asymmetrical patterns.
As far as all-season tires are concerned, one must avoid unidirectional patterns. Due to the lack of variation in the tread pattern, these tires often require more maintenance and also have limited adaptability.
6. Unexpected Costs
You must also remember that simply buying the tires does not mean you're done. Installation and shipping costs are additional charges you need to pay.
A lot of companies can deliver the tires to a workshop as per your choice and convenience. This can help reduce some of the costs in case of online orders. Yet, when you decide which tires to go for, always keep some buffer to cover any additional costs you may have to incur.
7. Road Test Period and Tread Life Warranty
As a customer, you must understand what a tread life warranty signifies. It is measured in miles, unlike the normal warranty which is mentioned as a specific time period. Manufacturers assure replacement or repair of the tires if they wear out before they are run for a certain number of miles. Of course, the longer tread-life warranties are better!
At the same time, you must also note that manufacturers have strict requirements and conditions to keep your warranty valid. Regular rotations, alignment checks, etc. may be part of the conditions. In order to be able to claim your warranty, you must keep such requirements in mind.
8. Can your tires work in the snow?
Traction on light snow is offered by numerous all-season tires, if not all. Yet, the fact that all-season tires can work as a replacement for snow tires is not true. The name itself, 'all-season' can sometimes be misleading. Even the most versatile and highest grade of all-season tires have some limitations.
While light snow is something all-season tires may be able to handle, they're no good in case of heavy snow. All-season tires may work if your region experiences occasional snowfall. However, if you reside in a predominantly snowy region, it may not be wise to go for all-season tires. Specialized winter tires are necessary for thick snow.
Should you switch to All-Season tires?
All-season tires come loaded with exceptional benefits. At the same time, they are slightly expensive compared to regular tires. However, you may invest in them if any of the following is troubling you.
Improper handling – While driving, if you experience improper handling, it can be either due to the wrong type of tires or ones that are worn out. In almost all circumstances, you can experience better handling and traction if you use all-season tires.
Trouble in wet conditions – All-season tires offer better traction in wet and rainy conditions. If you have trouble driving in the rain, switching to all-season tires will be a great option.
The importance of tire warranty – All-season tires come with excellent warranties. Within the warranty period, you can simply get replacements or repairs without spending too much. Some tires offer as high as 90,000-mile warranties. Guess that's enough to convince you!
Benefits of All-Season Tires
All season tires are simply awesome. Yet, you don't need to take our word on this. Read about their benefits and we're sure you'll be convinced.
1. Warranties
Manufacturers do not simply claim that all-season tires will last. They go the extra mile to ensure you. You will believe you're riding on their word when your tire comes with 90,000+ mile warranties. At the same time, please note the manufacturer's conditions carefully for claiming the warranties.
2. Comparatively Affordable
Compared to the other types of tires, all-season tires are slightly less pricey. The supply and demand economics works in favor of customers as there is high demand. Hence, volume production leads to lower costs for manufacturers, which are further passed on to consumers. Customers also benefit from the high competition in the industry and get the best deals.
3. Longer Treadwear
All-season tires actually burn slower compared to regular tires. Well, affordable and durable, isn't that just the best combination! The tires wear evenly due to their design. Hence, you don't have to go around replacing your tires too often.
4. Quiet Operation
Usually, all-season tires have unique tire designs that reduce road noise levels. After all, the constant whirring sound as you barrel down the highway is quite annoying. The all-season tires stay smooth for longer time periods and prevent the annoying low-pitched noise from occurring.
Conclusion
So here it is! Our intense and in-depth guide on all-season tires and why you must invest in them. Additionally, you have the information necessary for choosing the best tire to suit your needs. Make an informed decision with the help of this guide.